---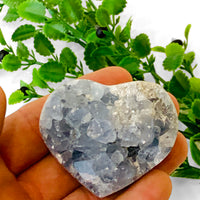 Item:
Celestite 

Size:
2"

Location:
Madagascar

Notes: 
Love the sweet sentiment conveyed by this small celestite heart. A great way to share emotion with a special someone or gentle reminder of grace for self.

Metaphysical Info:
Celestite is used often when working with your higher chakras (Third Eye or Crown) to engage with a higher vibrational energy. Use this stone when communicating with your guardian angels as celestial awareness of belonging, a strong sense of peace and finding your place in the universe are often achieved after deep meditation with celestite. It's also 

highly conducive for dream recall and out of body travel!